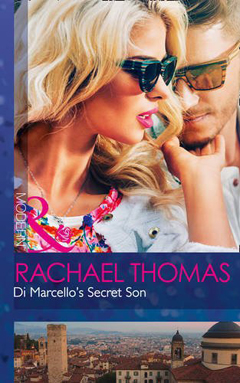 Di Marcello's Secret Son is the first in a trilogy, The Secret Billionaires, which Dani Collins, Jennifer Hayward and myself worked on to create powerful and sexy heroes who live life on the edge and take great pleasure in challenging one another.
Each book is about one of the three billionaires, all of whom go undercover as part of the ultimate challenge from their mutual friend, Sebastien. Whilst doing that challenge they meet or are reunited with the women who test them far more than the challenge itself.
Antonio Di Marcello finds himself back in Milan, working as a motor mechanic. At first he thinks the challenge is to mend bridges with his estranged parents, whom he hasn't seen since he ended the ill-fated marriage he'd made out of honour and duty to his family.
Very quickly he discovers that Sadie Parker, the woman he had a passionate weekend affair with four years ago, is working at the same garage. Sure this is his challenge, he cannot reveal his true identity until the end of the two week challenge, by which time he discovers that their affair has a lasting legacy - his son and heir.
Sadie has lived in fear and hope of Antonio coming back into her life, but had never anticipated it would be in such a way. She is determined to protect her child from being hurt and rejected by his father but is totally unprepared for the sensual onslaught Antonio adopts in order to get what he wants and finds herself falling for him all over again.
I hope you enjoy Antonio and Sadie's story and don't forget to read Stavros and Calli's story in Xenakis's Convenient Bride by Dani Collins and Alejandro and Cecily's story in Salazar's One-Night Heir by Jennifer Hayward.