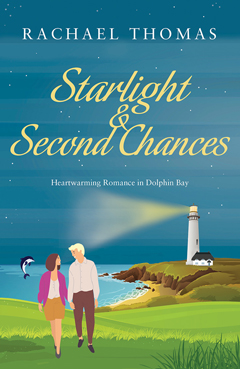 Latest release...
Welcome to Dolphin Bay!
Starlight & Second Chances is the first book in my brand-new series, Dolphin Bay. For a few years now, I've wanted to write a book set closer to home and this series is inspired by Cardigan Bay, which only a short drive from my home.
It still features a heroine to relate to and hero to swoon over, but unlike my category romance books, it has a bigger cast of characters. I hope you enjoy Megan and Luke's story and meeting their friends and family.
Starlight & Second Chances – Dolphin Bay book 1
Twelve years after she left for London, an inheritance from her grandmother, sees Megan return to her childhood home of Dolphin Bay. But reuniting with old friends brings her face to face with Luke – the love she left behind. She's not the same girl anymore, but that doesn't stop the attraction which sizzles between them
Luke never forgot the girl he lost his heart to all those years ago, and her return proves that his feelings for her are stronger than ever. He can see Megan has been hurt by the past and is determined to play it cool. But what he wants is to convince her to give them – and Dolphin Bay – a second chance.
For my latest news...
Rachael Thomas on Twitter