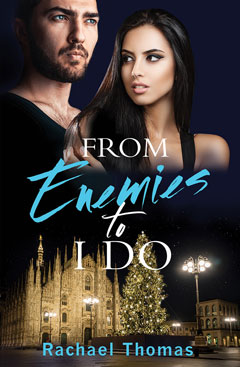 Latest release...
From Enemies to I Do


To claim her inheritance…
…she must marry her enemy!
Ever since her mother married into the Marchetti family, Sienna has carried a torch for Rico Marchetti, but when he makes it clear she is the last woman he would ever want to in his life, she relegates him to the position of enemy in hers. She joins the Marchetti family business after university and she and Rico are forced to work together but with Rico based in the Milan office and Sienna in the London one, keeping a distance is easily achieved. When Sienna inherits her stepfather's share of the business, with strict terms to adhere to, the physical distance between herself and Rico is shattered, and sparks begin to fly.
There is no way Rico will allow his uncle's will to tear apart the Marchetti business, but the only way to do that is marry Sienna. Rico wants a temporary arrangement that will enable them to both have what they want, but he doesn't bargain on the intense desire he feels when he not only sees Sienna again but lets her into his life.
I love an enemies to lovers romance story and writing Sienna and Rico's was great fun. I hope you enjoy reading it!

Rachael
For my latest news...
Rachael Thomas on Twitter