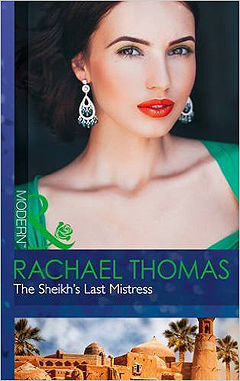 The Sheikh's Last Mistress is Zafir and Destiny's story and one that has been in my mind for several years. The first version was written in 2012, before I became a published Harlequin author. It wasn't successful on that first submission, but as I had fallen in love with the characters I just had to rewrite their story.
Destiny is a horse lover and has used her love for them as an excuse to stay away from any kind of relationship with men. After losing her mother when she was young and being brought up by a step mother as mercenary as her father, she didn't believe love could exist. When Zafir strides into her life, offering her the escape route she has been searching for, she has no idea he is the man she will lose her heart to.
Zafir is about to take a wife out of duty to his country, Kezoban, but is still haunted by the events surrounding his sister's tragic death, as is his prized stallion, Majeed. Destiny Richards comes highly recommended for healing troubled horses and he makes her a deal to return to Kezoban with him. What he doesn't know is that she will not only heal Majeed, but also help him to move on from the terrible events of the past – and she will become the woman he loves, the woman he wants as his wife. His Last Mistress.